text.skipToContent
text.skipToNavigation

Your access to the iCorr®
NSF Certification
H1 registration for consumables corruLUB® and corruCLEAN® 




With the products of the corruLUB® and corruCLEAN® series, BHS Corrugated offers numerous consumables which are registered according to NSF International guidelines under H1 - this means that they can be used in food processing facilities / environments.





What does this mean in particular for the application in corrugated board production?




This may of course be the case in the production of corrugated board for packaging material in food processing and handling, in which H1 registration is necessary. These consumables are tested according to strict NSF guidelines under US FDA 21 CFR 178.3570 and are approved for food where accidental food contact may occur.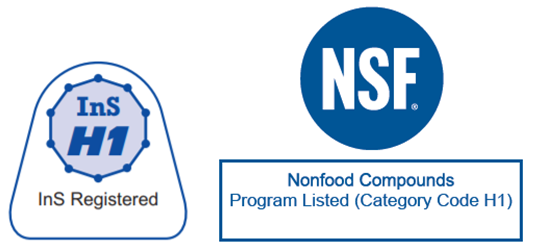 FAQs
​​
NSF International is an independent, accredited organisation that carries out product registrations for non-food compositions such as lubricants, cleaners or water treatment products used in food and beverage processing. NSF International is the only international registration that guarantees that the product can be used without health risks in the food industry and is internationally recognised for the development of norms and standards for public health and the environment. NSF was founded in 1944 as the National Sanitation Foundation and has been run as NSF International since 1990, with headquarters in Ann Arbor, USA. More information is available at
​ ​​​​​
https://www.nsf.org/about-nsf/
​​​​​
For products in which technically unavoidable, accidental contact with food can occur, there is a registration according to H1 guidelines. These regulations allow registered consumables to come into contact with food during production, e.g. during the packaging production within the food or pharmaceutical industry. The contained ingredients are tested by NSF International in accordance with regulations from 21 CFR 178.3570. Products that pass NSF International's thorough toxicological evaluation are registered and listed in the NSF White Book™ (NSF's online list of registered non-food compositions): http://info.nsf.org/usda/psnclistings.asp
​​​​​​​
All listed products are allowed to carry the NSF symbol, which confirms that these products were tested by the internationally recognized certification organization, NSF International. This symbol shows that the products have undergone impartial testing against specified standards and criteria. NSF regularly carries out product tests to verify that the products continue to meet the requirements.
​​​​​
The former registration body for lubricants, greases, and other non-food compositions, InS Services, based in the UK, was taken over by NSF International in July 2019. Starting in 2020, products previously registered and managed by InS Services can be transferred to the NSF White Book™ after going through a registration review. More information is available at:
​​​​​
http://www.nsf.org/newsroom/nsf-international-acquires-uk-based-ins-services
​​​​​​
BHS Corrugated has been carrying out registrations according to H1 guidelines since the beginning of 2020. Currently, products like corruLUB® Bacomin V42-50 H1, HT250 Chain H1, Slitter Cut V15 H1, and corruCLEAN® Clean Spray H1 Easy, are registered. The registration of all H1-compatible consumables will be completed by the end of 2020. These can also be found in the iCorr® Shop at https://icorr.shop/bhs/en/login or in the NSF White Book™ http://info.nsf.org/usda/psnclistings.asp
​​​​​​
The H1 consumables are known worldwide as special lubricants for accidental contact with food and are recommended for the lubrication of machinery in the production of food, feed, and pharmaceutical products.
​​​​​​
​​​​​​​
BHS Corrugated will help you to select the right consumables for your application -
contact us
!
​​​​